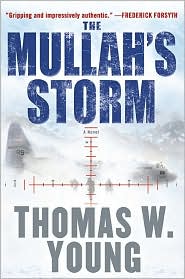 This is a debut novel that both Bob and I enjoyed. We both liked the non-stop adventure and great writing. Bob been through the Navy's Survival School and thought those aspects of the story were very realistic.
From Publishers Weekly:
At the start of Young's well-crafted first novel, a transport plane carrying a high-value prisoner, a radical mullah, is forced down in the rugged Hindu Kush of Afghanistan. Maj. Michael Parson, the plane's co-pilot, and female Master Sergeant Gold, an interpreter who speaks Pashto, must brave a ferocious winter storm and reach a nearby Special Forces team with the mullah, but they wind up in the hands of Taliban insurgents.The SF team rescues Parson, but the Taliban escape, taking the mullah and the translator in opposite directions.The team must try to recapture the mullah, but Parson can't abandon Gold because"You love your comrades more than you hate your enemies."Young (The Speed of Heat: An Airlift Wing at War in Iraq and Afghanistan) draws on his own war experiences for verisimilitude, which, along with believable characters and an exciting plot, makes this one of the better thrillers to come out of the Afghan theater.
The copy I'm giving away is an ARC, if you're interested leave a comment on this post; just for fun, tell be your favorite thing about autumn. Be sure I have a way of contacting you. The winner of give away #49, How to Read The Air by Dinaw Mengestu, is
T+E
; I've sent him/her an email.