I regularly get inquiries about making custom quilts. Shoppers browse my etsy shop and decide that I'm the person to make the quilt of their dreams. After the initial contact, I frequently have many more convos with them about what they want, price, pattern and fabric. It can be very time consuming and usually results in nothing.
My bright idea was to create a listing that would be for a deposit for the quilt of their choice. Most of the inquiries are about bed size quilts, usually Queen or King size. I made listings for the deposits on Baby, Lap/Nap, Twin, Full, Queen and King size quilts, and spelled out what those sizes were and what they got for their order. You can check one out,
here
, if you want to see how I worded the listings.
I've gotten two really interesting inquiries, since I did this. Woman A asked me to make this quilt for her in a king size.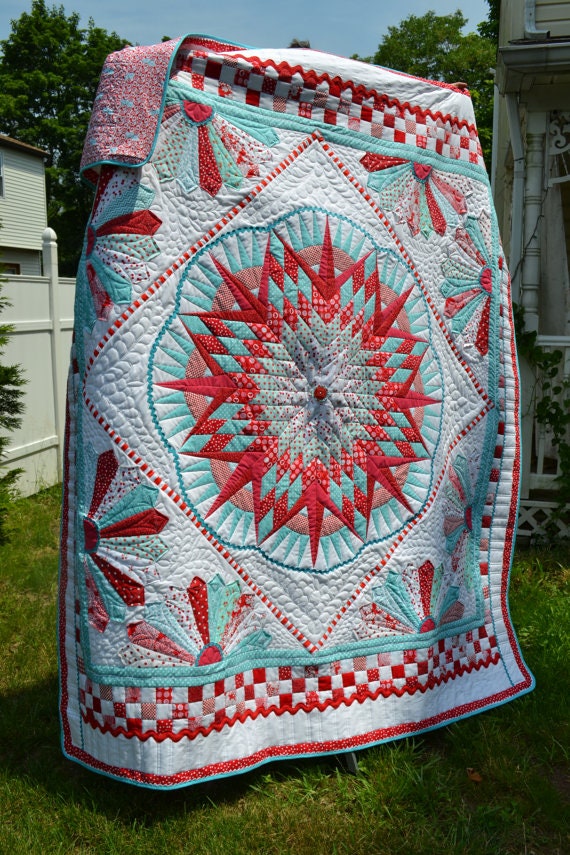 Just guessing, I'd say it's much smaller than a full size quilt and the original quilter was asking $1,500.00 for it. I explained to A that the quilt in the photo is worth every penny being charged because of the intricate design and extensive time-consuming custom quilting. I also explained that my quilts are my own designs and are much simpler and I use a professional long arm quilter who does edge to edge designs, not custom. I told her that I'd be happy to make her a king size quilt using red and aqua fabrics, for my stated price of $600.00, but I wouldn't make a quilt like she wanted for my price.
Woman B, asked about making a reversible king size quilt using her own fabric. This could be a quilter's nightmare, most fabric isn't "quilting quality". She wanted one side to be Seattle Seahawks, and the reverse to be Denver Broncos, theirs is an NFL house divided. She says that her fabric is 100% cotton for the prints and quilting cotton for the solids, so that would be OK. She's purchased 30 yards, total; which is more that enough for a king size quilt. I quoted her $400, total, using her fabric, half of that is for the actual long arm quilting and the batting, for a king size quilt, the other half is for me to construct the quilt top and quilt back and do the binding. It would take many hours, and $200.00 wouldn't cover my labor. Realistically, I quilt because I love to create, but I don't do it for free, for strangers.
So, far neither woman has decided to have me make her a quilt. Life is interesting, to say the least.
Right now, I'm making a queen size quilt for a woman from Florida, she found me, asked if I could make this quilt in a queen size. This quilt is right up my ally; it's simple and straightforward. The photo is of a lap size quilt; so I did my math and wrote a pattern for a queen size. I made a test quilt top, using fabric from my stash, that I love and will keep for Bob and I.
I purchased the fabric that matched the original quilt and started cutting and sewing. It's going to look just like the sample, only queen size.
You can click the photos to get to the source of each one.
Thanks for stopping by and sharing my life with me,