There's a new in-store play at Barnes and Noble that really got my attention when I was working over the weekend. You probably know Hugh Laurie from his stent on House, on Fox.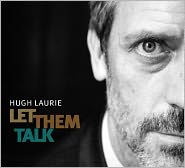 '
Let Them Talk - A Celebration of New Orleans Blues
'
Here's a sample or 2, if you have time:
And here, Laurie talks about his love affair with music:
Can you tell, I love this!
Be well and do good,