This is my beautiful granddaughter, Erin, modeling her prom dress. Prom season always reminds me of a couple of things. First, I never attended a prom. My high school boyfriend was about 18 months older than I, and went in the military when he was 17. He was in Korea for my Junior and Senior proms. During that time I knew Bob, but we were just friends, and he was in the Navy, and gone most of that time, too. Bob and I started dating after I was out of high school, and "single".
The second thing is, my daughters we able to go to many proms, Spring Flings and Winter Formals. I was lucky enough make all their formals. I would take a week off from work and construct two original gowns. They never ran into anyone else wearing the same dress. I was in the automotive after-market business at the time, and was able to barter goods and/or service for a limo ride for them. They always arrived in style.
This is Carrie and Sharon in their teens.
They were both smart and beautiful. BTW, they still are.
Bob and I went to the movies, on Friday, to see Lincoln Lawyer. (I highly recommend it.) I stuck my head thru the opening in this cutout. It's the closest I ever came to going to a prom.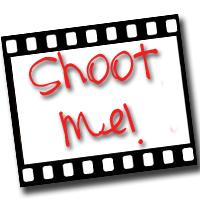 Go visit
her
to see who else played, today.
Thanks for stopping by, we enjoyed having you,